Evaluation of chemical elements content in mangroves island of Itaparica, Bahia, Brazil
Abstract
The content of Fe, Mn, Mo, Ni, Cu, Ba and V are reported in surface sediments of mangrove of seven settlements: Baiacu, Cacha Pregos, Jeribatuba, Misericórdia, Mocambo, Campinas e Ponta Grossa. All of them from the island of Itaparica, Bahia. Values ​​equivalent to the percentage of organic matter and calcium carbonate and particle size analysis are also presented in the samples investigated. Trace and major elements were determined by ICP OES and higher concentrations (µg g-1) were found mainly in the Misericórdia (Mn: 36.35 ± 1.14; Ba: 11.01 ± 1.71; V: 10.55 ± 1.81; Mo: 10.77 ±1.82) . Cacha Pregos (Mn: 26.75 ± 2.51; Ba: 9.77 ± 1.42; Cu: 20.38 ± 6.55) and Jeribatuba (Ba: 9.88 ±0.46).   High concentrations of Mn in Baiacu and Ponta Grossa were also presented. Statistical analysis expressed by Pearson Correlation Matrix and Principal Component Analysis (PCA) established relationships between variables and samples studied, corroborating metal concentrations found in the samples of Misericórdia, Cacha Pregos and Jeribatuba.
Downloads
Download data is not yet available.
References
Andrade, C.L.N. 2011. Biogeoquímica do ambiente estuarino do rio passa vaca em área urbana de Salvador, BA. Dissertação de Mestrado, Instituto de Geociências/Universidade Federal da Bahia, Salvador, Bahia. 140p.
Belo, A.; Quináia S.P.; Pletsch, A.L. 2010. Avaliação da contaminação de metais em sedimentos superficiais das praias do lago de Itaipu. Química Nova, 33(3): 613-617.
Boaventura, S. F. 2011. Distribuição de metais traço em superfície no município de Madre de Deus, Bahia. Dissertação de Mestrado em Geoquímica: Petróleo e Meio Ambiente/Universidade Federal da Bahia, Salvador, Bahia.
Carapeto, C. 2008. Poluição das águas: causas e efeitos. Lisboa: Universidade Aberta, 241p.
Castro, P; Huber, M.E. 2012. Biologia Marinha. 8a. ed. AMGH, Porto Alegre, 460p.
Conceição, M. da; Manzatto, C. V.; Araújo, W. S. de; Martin Neto, L.; Saab, S. da C.; Cunha, T. J. F. da; Freixo, A. A. 1999. EMBRAPA. Estudo comparativo de métodos de determinação do teor de Matéria Orgânica em solos orgânicos do estado do Rio de Janeiro. Ministério da Agricultura e do Abastecimento. 3: 1-5.
Costa, A.B.; Novotny, E.H.; Bloise, A.C.; de Azevedo, E.R.; Bonagamba, T.J.; Zucchi, M.R.; Santos, V.L.C.S.; Azevedo, A.E.G. 2011. Characterization of organic matter in sediment cores of the Todos os Santos Bay, Bahia, Brazil, by elemental analysis and 13C NMR. Marine Pollution Bulletin, 62(8): 1883-1890.
Dohierty, G.B.; Brunskill, G.J.; Ridd, M.J. 2000. Natural and enhanced concentrations of trace metals in sediments of Cleveland Bay, Great Barrier Reef Lagoon, Australia. Marine Pollution Bulletin. 41(7-12): 337-344.
Dou, Y.; Li J.; Zhao J.; Hu B.; Yang S. 2013. Distribuition, enrichment and source of heavy metals in sufarce sediments of the eastern Beibu Bay, South China Sea. Marine Pollution Bulletin. 67(1-2): 137-145.

EPA-Environmental Protection Agency, 1996. Method 3050B-4: Acid digestion of sediments, sludges, and soils. Revision 2. CD-ROM.
Fagnani, E.; Guimarães, J.R.; Mozeto, A.A.; Fadini, P.S. 2011. Sulfetos volatilizáveis por acidificação e metais extraídos simultaneamente na avaliação de sedimentos de água doce. Quimica Nova, 34 (9): 1618-1628.
Ferreira, S.L.C.; Silva, L.O.B.; Santana, F.A.de; Junior, M.M.S.; Matos, G.D.; Santos, W.N.L. dos. 2013. A review of reflux systems using cold finger for sample preparation in the determination of volatile elements. Microchemical Journal, 106: 307-310.
Fortunato, J.M., 2009. Comportamento dos íons chumbo, cobre, níquel e zinco em área de manguezal associado ao antigo lixão no município de Santos - SP. Dissertação de Mestrado em Recursos Minerais e Hidrogeologia/Universidade de São Paulo, São Paulo, São Paulo. 75p.
Gan, H.; Lin, J.; Liang, K.; Xia, Z. 2013. Selected trace metals (As, Cd and Hg) distribution and contamination in the coastal wetland sediment of the northern Beibu Gulf, South China Sea. Marine Pollution Bulletin, 66 (1–2): 252-258.
Marques, J.S.J.; Rangel, T.P.; Brito, F.P.; Almeida, M.G.; Salomão, M.S.M.B.; Gobo, A.A.R.; Souza-Santos, L.P.; Araújo-Castro, C.M.V.; Costa, M.F.; Rezende, C.E. 2011. Geoquímica de Metais em Sedimentos da Zona Estuarina do Complexo Industrial Porto de Suape, PE-Brasil. Revista da Gestão Costeira Integrada, 11(4): 379-387.
Martins, S. S. S.; Silva, M. P. M.; Azevedo, O. Silva, V. P. 2015. Produção de Petróleo e Impactos Ambientais. Holos, 31(6): 54-76.
Queiróz, A.F. de S., Celino, J.J., 2008. Manguezais e ecossistemas estuarinos na Baía de Todos os Santos. In: Queiroz, A.F. de S.; Celino, J.J. Avaliação de ambientes na Baía de Todos os Santos: aspectos geoquímicos, geofísicos e biológicos. 1a. ed. Salvador: EDUFBA, 1, 39-58. 300p.
Samadfam, M., Niitsu, Y., Sato,S., Ohashi, H., 1996. Complexation thermodynamics of Sr (II) and humic acid. Radiochimica Acta, 73(4): 211-216.
Santos E. C., 2012. Hidrocarbonetos Policíclicos Aromáticos (HPA's) eSaturados em sedimentos superficiais de manguezais da ilha de Itaparica, Bahia, Brasil. Dissertação de Mestrado em Geoquímica: Petróleo e Meio Ambiente/Universidade Federal da Bahia, Salvador, Bahia. 190 p.
Santos, L.M.M.; Souza, R.C.; Anunciação, D.S.; Viana, Z.C.V.; Santos, V.L.C.S. 2017. Análise de metais em sedimentos de manguezal do Rio Passa Vaca, Salvador, Brasil. Acta Brasiliensis, 1(2):1-7.
Silva, F. C. da. 2009. Manual de análises químicas de solos, plantas e fertilizantes. Embrapa Informação Tecnológica, Brasília, DF. 2a.ed. 627p.
Templeton, d. M.; Ariese, F.; Cornelis, R.; Danielsson, L-G., Muntau, H., Leeuwen, H.P.V., Lobinski, R. 2000. IUPAC. Guidelines for terms related to chemical speciation and fraction of elements. Definitions, structural aspects and methodological approaches. Pure and Applied Chemistry, 72(8): 1453-1470.
USEPA - United States Environmental Protection Agency; Procedures for the derivation of equilibrium partitioning sediment benchmarks (ESBs) for the protection of benthic organisms: Metal mixtures (cadmium copper, lead nickel, silver, and zinc), EPA-600-R-02–011, Office of Research and Development: Washington DC, 2005.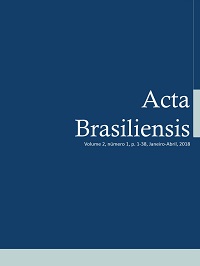 Section
Environmental Chemistry